Monday, September 12th, 2016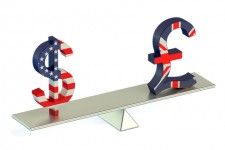 Sterling steadied on Monday (September 12) after its first week of losses in four, with traders debating whether the currency had topped out for the moment as they awaited a speech by U.S. Federal Reserve board member Lael Brainard.
The pound dipped last week against the dollar and euro but has broadly done well in the past month as a handful of economic indicators suggested the UK economy was holding up better than expected after June's vote to leave the European Union.
It was up roughly 0.3 percent at $1.3304 and 84.37 pence per euro by 3.30pm on Monday (September 12).