Bearish Pound Positions at Record High Before Bank of England Rate Decision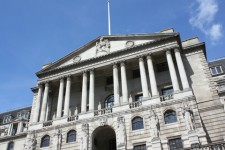 Speculators that are the most bearish on sterling in nearly 25 years may be vindicated by a report published on Monday (August 1) showing Brexit is probably hitting Britain harder than markets previously envisaged.
Sterling declined versus most of its 16 major peers as the data showed UK manufacturing shrank more than initially forecast in July.
Hedge funds and other large speculators ran the biggest net short positions, or bets on the currency's decline, since records began amid speculation that the Bank of England will cut interest rates for the first time in more than seven years on Thursday, August 4 to head off the risk of recession.
The pound has fallen 11 per cent against the dollar since Britain voted on June 23 to leave the European Union and posted its third consecutive monthly drop against the greenback in July.
Short positions outnumbered bullish wagers by 80,572 contracts last week, according to U.S. Commodity Futures Trading Commission data. That's the biggest bet that the pound will fall since news agency Bloomberg started compiling the data in 1992.
'Brexit could still play out as the perfect storm'
"Brexit could still play out as the perfect storm for the pound, Some people are bearish because it could trigger a balance of payments crisis which could see the currency depreciating sharply further on the back of portfolio outflows," said Valentin Marinov, head of Group-of-10 currency strategy at Credit Agricole SA's corporate and investment-banking unit in London.
The pound fell 0.2 per cent to $1.3201 as of 4.04pm in London on August 1. It dropped to a 31-year low of $1.2798 on July 6. Sterling weakened 0.2 per cent to 84.65 pence per euro.
Rate Outlook
All but two of 51 economists in a Bloomberg survey forecast BOE policy makers led by Governor Mark Carney will cut the key interest rate from a record-low 0.5 per cent, where it's been since March 2009. The median estimate in a separate survey was for the BOE to maintain its asset-purchase target at 375 billion pounds when it announces its latest policy decision on Thursday, August 4.
» Read more about Trade.com and learn how to trade in currencies online.