Pound Jumps Most in 3 Weeks as Remain Vote Rises in Brexit Poll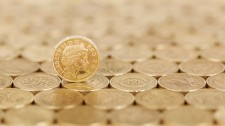 The pound rallied the most in three weeks after a poll of UK voters released on Monday showed people who support a campaign to remain in the European Union exceeded those saying they will vote to leave by a wider margin than last month.
Sterling rose against most of its 16 major peers after the ORB/Telegraph poll showed 55 percent of respondents were in favour of remaining in the European Union, while 40 percent wanted to leave.
The proportion in the remain camp increased from a similar survey in April. Britons will vote on the country's EU membership on June 23. UK government bonds rose as a report showed inflation slowed.
'Still Cautious Ahead of the Vote'
"The pound is finding buyers as polls seem to indicate the Remain vote is gaining the advantage over Leave," said Peter Rosenstreich, head of market strategy at Swissquote Bank SA. "We are still cautious ahead of the vote. Unless the polls really show a decisive Stay lead, rallies in sterling can be seen as an opportunity to sell."
The pound rose 0.5 percent to $1.4475 as of 4.04 pm in London on Monday, the biggest jump since April 26. That pared its loss against the US dollar this month to 0.9 percent. Sterling appreciated 0.4 percent to 78.32 pence per euro.
Sterling is seen as undervalued by a net 20 percent of fund managers, the second highest reading on record, according to Bank of America Merrill Lynch Surveys.
Contrary Result
A separate poll, produced by TNS, showed a contrary result: 38 percent of respondents want Britain to stay in the EU while 41 percent said they support an exit.
Sterling stayed higher even after a report showed the annual pace of UK inflation unexpectedly declined in April. The rate fell to 0.3 percent from 0.5 percent in March, the Office for National Statistics said.