Australian Dollar Rises to One-Month High as RBA Refrains From Cutting Rates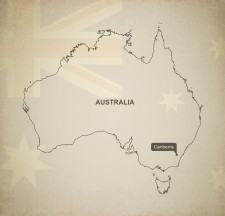 Australia's dollar rose to a one-month high and bond yields rebounded from the lowest ever as the central bank refrained from cutting interest rates.
The Reserve Bank of Australia left the benchmark rate at a record-low 1.75 percent, as forecast by all but one economist surveyed by news agency Bloomberg. Most expect the central bank to resume easing in August after a quarter-point reduction in May in response to a record-low core inflation reading.
"Last night's RBA policy statement was judged as lacking an explicit easing bias," said Jane Foley, a senior currency strategist at Rabobank International in London. "While this assessment has lent the Australian dollar significant support this morning, there are sufficient negative nuances contained within the RBA's policy outlook to infer that the prospect of an August rate cut remain very strong."
The Aussie climbed 1.1 percent to 74.48 U.S. cents as of 6:57 a.m. in New York yesterday, Tuesday (June 7), after touching 74.54, the highest since May 6. The currency rallied in the past week after reports showed the economy is expanding more than analysts predicted, the trade deficit narrowed and as traders scaled back bets for a U.S. rate increase this year.
Policy Pause
The RBA ended a one-year policy pause last month and lowered its benchmark to an all-time low in an effort to revive growth. Since then, economic data have improved, with gross domestic product growing at the fastest pace in four years last quarter and the jobless rate staying at the lowest since 2013.
There's a 55 percent chance the RBA will cut its benchmark rate by year-end, compared with 71 percent odds at the end of last week, according to data compiled by news agency Bloomberg based on swaps.
The benchmark 10-year bond yield climbed four basis points to 2.20 percent, after reaching a record low of 2.144 percent.
The central bank has relied on easy policy and a weaker currency to encourage growth in tourism and education — industries that have enjoyed a windfall and boosted hiring to help keep unemployment near a three-year low of 5.7 percent.

"An appreciating exchange rate could complicate the economy's adjustment to the end of a mining boom," RBA Governor Glenn Stevens said in Tuesday's (June 7) statement.
» Read more about AvaTrade and learn about how to trade in currencies online.