Brexit Woes Drags Pound To 31-year Low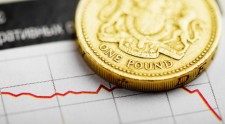 The pound tumbled to a new 31-year low on Wednesday (July 6), at one point dipping below $1.28, on fears over the effect of last month's Brexit vote on Britain's property market and the prospect of cuts in Bank of England interest rates.
The pound, one of the main vehicles through which financial markets can express concern about Britain's decision to leave the European Union, fell as low as $1.2798 in Asian trading, its lowest since June 1985. It recovered to about $1.2891 in afternoon trading in London.
That still left it more than 13 per cent weaker than it was before the June 23 referendum, and about 1 per cent lower on the day.
Against the euro, sterling hit a three-year trough of 86.29 pence per euro before steadying at 85.88 pence, also down 1 per cent on the day.
Threats to financial stability
Worries have grown in the past two days about financial stress. The Bank of England warned on Tuesday (July 5) of threats to financial stability, pointing out the effects on property markets. Trading has now been suspended in six of Britain's biggest property funds as investor redemptions rose.
"The pound is still very volatile after the Brexit vote, and still vulnerable to the downside," said Bank of Tokyo-Mitsubishi UFJ currency economist Lee Hardman.
He added: "Yesterday (July 5) the main trigger was the reports of signs of distress in the commercial real estate market, which the Bank of England highlighted as one of the financial stability risks in the UK. That created a fairly large sell-off … and sterling is just recovering some of those falls."
UK relies on inflows
Among the property funds to announce a suspension in customer withdrawals was M&G, the fund management arm of insurer Prudential, which made the announcement after the London market close on Tuesday (July 5).
"The problem is, with the UK having a large current account deficit, it is really reliant on inflows," said the head of currency trading at one large U.S. bank in London.
"Without the capital inflows, the currency is going to have to weaken anyway and it will just weaken in the long term gradually. The worst case is there is a flood for the exit. Property is one thing and gilts is the other."
The Bank of England also expressed concern on Tuesday (July 5) about a fall in investor demand for British assets, which could make it harder to finance the current account deficit, putting more pressure on the pound.
» Register with Markets.com now and start trading in currencies online today.