Singapore dollar
Singapore dollar (SGD) was introduced in 1967, replacing the Malaysian dollar.


br>
Below you can read all about the Singapore Dollar:
Common names for Singapore Dollar
"Sing" is the only common abbreviation and nickname that we heard of Singapore's currency. The short currency symbol used by forex traders and money changers are SGD.
Countries with SGD
The only official countries using Singapore dollars are Singapore and Brunei.
How much is Singapore Dollar (SGD) traded?
SGD is the 13th most traded currency in the world, after U.S. Dollar, Euro, Yen, Pound Sterling, Swiss Francs, Australian Dollars, Swedish krona, Canadian dollar, Hong Kong Dollar, Norwegian krone, New Zealand dollars and Mexican peso.
Currency symbol and ISO-code
The only official ISO code as currency traders and money exchange offices are using is SGD.
History of the Singapore Dollar
Between 1845 and 1939 that used the Singapore Straits Dollar. This was later changed to the Malaysian Dollar, and from 1953 to Malaysian and Borneo Dollars. After independence from Malaysia in 1965, the monetary union between Malaysia, Singapore and Brunei broke up. Singapore created its own central bank and currency, April 7, 1967. The new currency, Singapore dollars, was interchangeable with the old currency in 6 years. Initially it had SGD fixed rate against the pound sterling. The fixed exchange rate lasted only for early 1970, SGD after each had a fixed exchange rate against USD for a short period. Subsequently, Singapore had a fixed exchange rate against a range of trade-weighted currencies. However, from 1985 and forward, Singapore had a floating currency.
Currency Crises with SGD
There have been none so far.
Monetary Authority of Singapore
Monetary Authority of Singapore seeking a sustainable, non-inflationary economic growth, to maintain their status as a sound and progressive financial center.
Online Forex Trading with Singapore Dollar
Singapore Dollar is part of the 13 most actively traded currency pairs. Trading currency with the SGP is not so common among individuals, but made mainly from international companies with currency exposure to Asia and Singapore in particular. The economy and the government is relatively stable. Foreign credit rating plays a large role in the small country's credibility. Its economy is based largely on re-export of various commodities, especially oil, rubber, textiles and wood. Foreign trade has historically been a significant source of revenue for the country's population.
The SGD's value against other currencies
The Singapore Dollar is traded freely under floating exchange rate.
Pictures of SGD, notes & coins
Below are some common notes and coins in Singapore.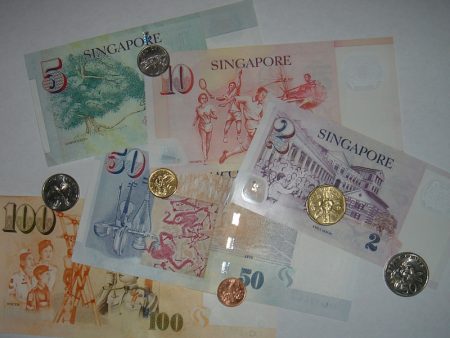 Warning: include(/home1/sub001/sc19974-RPIX/onlineforex.net/wp-content/themes/forex-full/inc.BlogCurrency.php) [function.include]: failed to open stream: No such file or directory in /home/dme/public_html/onlineforex.net/wp-content/plugins/inline-php/exec_php.php5(4) : eval()'d code on line 6
Warning: include() [function.include]: Failed opening '/home1/sub001/sc19974-RPIX/onlineforex.net/wp-content/themes/forex-full/inc.BlogCurrency.php' for inclusion (include_path='.:/usr/share/pear:/usr/share/php') in /home/dme/public_html/onlineforex.net/wp-content/plugins/inline-php/exec_php.php5(4) : eval()'d code on line 6