Emerging Markets: Colombian Peso Weakens After Cenbank Backs Off Intervention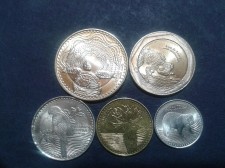 The Colombian peso weakened on Tuesday (31/5) after the country's central bank announced it would suspend an intervention policy aimed at slowing the currency's decline.
The central bank said on Friday (27/5) it would not hold any additional dollar option sales, but did not fully rule out further intervention.
The bank also increased its benchmark interest rate for a ninth consecutive month on Friday, to 7.25 per cent, confirming the expectations of most analysts in a Reuters poll.
The Colombian peso has weakened more than 8 per cent so far this month to its lowest since early April. Expectations of higher U.S. interest rates and a decline in the price of oil, a key export and source of tax revenue, weighed on the currency.
'Eliminates a Source of Risk'
"This announcement eliminates a source of risk when taking on USD/COP positions and should therefore expedite the COP depreciation path," Nomura Securities strategist Mario Castro wrote in a client note.
Colombian markets were closed on Monday (30/5) due to a local holiday.
The Brazilian real also weakened on Tuesday after the release of leaked recordings resulted in a minister quitting interim President Michel Temer's administration, the second such departure since he took over from leftist Dilma Rousseff in may.
Worrying Investors
Investors worry political instability could weaken the government's ability to gain lawmaker support for austerity measures as Latin America's biggest economy battles a deep recession and stubbornly high inflation.
Brazil's benchmark Bovespa stock index, however,inched up, supported by a recovery in oil prices. Shares of Petróleo Brasileiro SA rose 0.7 percent after the state-controlled oil company's board formally elected well-respected executive Pedro Parente as chief executive officer late on Monday.
Stocks of Fibria SA jumped to a two-month high and posted the biggest gain in the index. The world's largest producer of eucalyptus pulp increased production forecasts for its new Horizonte 2 plant and raised the possibility of slower capital spending on the project.