Sterling Near a Three-week High as Brexit Worries Ease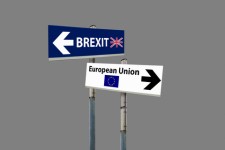 Sterling traded close to a three-week high against the dollar on Thursday (August 25) and was on track for its best week in six, with worries over the economic impact of Britain's vote to leave the European Union easing a little after recent better-than-expected data.
The pound was also on track for its best week in six weeks against the euro, having hit a two-week high against the single currency on Wednesday (August 24).
Short positions on sterling had reached a record high of 94,238 contracts in the week to August 16, and traders said many speculators had this week been unwinding bets and booking profits, which had helped lift the currency.
The pound traded flat at $1.3227, leaving it on track for an almost 1.5 per cent weekly gain.
Two-year peak in manufacturing export
Data released on Tuesday (August 23) showed orders for British manufacturing exports hit a two-year peak in August.
"The pound continues to trade on a firmer footing, in the near-term supported by the easing of initial Brexit fears as the UK economy appears to be holding up better than expected," said Bank of Tokyo-Mitsubishi currency strategist Lee Hardman.
Against the euro, it lost 0.2 per cent to trade at 85.32 pence, still close to the previous day's high of 84.86 pence, and also on track for a 1.5 per cent weekly rise.
Sterling had already risen 1.2 per cent last week, after July inflation and retail sales numbers released beat forecasts, adding to signs that consumers have yet to rein in spending after Britain's vote for Brexit in June.
Three-decade low in July
Sterling fell to a three-decade low of $1.2798 on July 8 and had been languishing near those troughs earlier this month on expectations that the Bank of England might have to ease monetary policy further in coming months.
The central bank cut rates to a record low on August 4 and restarted an asset-buying programme to cushion the economy from an expected post-Brexit slowdown. But after the slew of upbeat data, investors are reassessing the chances of further easing.
"It's not that bad! That's the current sentiment for the pound, which provided a strong lift over the past days," wrote Commerzbank strategists in a note to clients.
"But watch out: the Brexit shock is still to come, as its effects will only gradually be reflected in the data, which will worsen over time."
» Register with Easy-Forex now and start trading in currencies online today.