Prime Minister David Cameron Says EU Referendum Will Be Very Close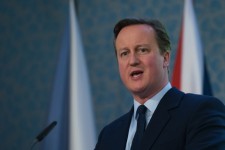 Prime Minister David Cameron has said Thursday's (June 23) referendum on Britain's membership of the European Union was likely to be very close but he also predicted a "remain dividend" in investments if Britons voted to stay in the 28-nation bloc.
With just two days to go until the referendum that will shape the future of Europe, opinion polls have indicated that British public opinion is so divided that the outcome is too close to call.
Meanwhile, Swiss investment bank UBS warned its clients on Tuesday (June 21) it may fail to execute some orders on its electronic trading platform should this week's Brexit referendum affect liquidity or cause extreme volatility.
"It's very close; nobody knows what's going to happen," Mr Cameron told The Financial Times newspaper in an interview, published on Tuesday (June 21).
In the event of a 'remain' vote, Cameron predicted an investment surge into Britain.
'It's a great place to do business'
"I think on Friday (June 24) that businesses, wealth creators, job creators will think: Britain has made a decision, let's pile back into the economy and create jobs and opportunity because it's a great place to do business," he told the FT.
Cameron also issued a warning to members of his ruling Conservative Party who say they would continue to fight for a Brexit if 'Remain' won by only a narrow majority.
"As far as I'm concerned this referendum should settle the matter," he said.
Earlier on Tuesday (June 21), Cameron appealed to Britons, especially older voters, to think about the impact leaving the European Union would have on the country and future generations.
'Spark frantic moves'
Results, expected from early on Friday (June 24), are expected to spark frantic moves on financial markets, especially sterling.
UBS said that regardless of the outcome, there could be an increase in volatility and an impact on trading volumes, which in turn could affect its ability to execute clients' positions.
"In the event that extreme market moves occur, giving rise to limited liquidity in certain currencies, we may not be able to fill limit orders or take profit orders at the levels, or using the methodologies, expected in normally-functioning markets," the bank said.
45 million eligible voters
The United Kingdom and Gibraltar have a total of 46.5 million electors who are eligible to vote in Thursday's referendum on European Union membership, according to the Electoral Commission.
» Read about Ava Trade and learn how to trade in currency online