Swedish Krona
Swedish krona is an old currency that was adopted in 1893. Swedish krona is the official currency for the Kingdom of Sweden. It's a currency strongly influenced by the short term forex traders and investors' current risk appetite.



br>
Read our in-depth guide about the Swedish Krona (SEK) below:
Common names for Swedish Krona
SEK, Swedish krona, kr (local) and "svenska riksdaler" (swedish) are the three most common names found among OnlineForex.net currency traders.
Countries with Krona
The only official country with Krona as a official currency is Sweden. But several other countries have local krona, such as Denmark (Danish krone), Norway (Norwegian krona) and the Czech Republic (Czech krouna).
How much is the Krona traded?
The Swedish krona is the 7th most traded currency in world.
History of the Swedish Krona
More info soon.
Currency symbol and ISO-code
The official ISO code used by both online forex traders and foreign exchange office are SEK.
Currency crisis with the Krona
More info soon.
Riksbanken (Swedish Central Bank)
Riksbanken, Sweden's central bank, has three main targets:
and and .
High employment:
Sustainable growth
Non-inflationary growth
Online Forex Trading with SEK
Trading SEK against the U.S. dollar and Euro are very popular online. Danish krone and Norwegian krona are among the other most popular currencies against SEK.
Swedish Krona vs other currencies
Swedish krona has proven to be a relatively volantil currencies, which fluctuate depending on how much trade, stock prices and risk appetite changes.
Pictures of Swedish Krona
Below are some common notes and coins Sweden.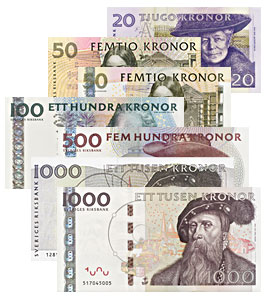 Warning: include(/home1/sub001/sc19974-RPIX/onlineforex.net/wp-content/themes/forex-full/inc.BlogCurrency.php) [function.include]: failed to open stream: No such file or directory in /home/dme/public_html/onlineforex.net/wp-content/plugins/inline-php/exec_php.php5(4) : eval()'d code on line 5
Warning: include() [function.include]: Failed opening '/home1/sub001/sc19974-RPIX/onlineforex.net/wp-content/themes/forex-full/inc.BlogCurrency.php' for inclusion (include_path='.:/usr/share/pear:/usr/share/php') in /home/dme/public_html/onlineforex.net/wp-content/plugins/inline-php/exec_php.php5(4) : eval()'d code on line 5