Firm Sterling Ahead of New Prime Minister's Brexit View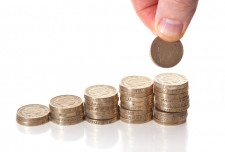 Sterling was firmer on Wednesday (July 13), trading near a two-week high against the euro as Theresa May was set to take over as Britain's prime minister, easing some of the political uncertainty that has dogged the currency in the past few weeks.
Traders will keep an eye on who will be appointed as finance minister with many awaiting for clarity on the new prime minister's detailed thinking on triggering Article 50, the procedure for exiting the European Union.
May has said "Brexit means Brexit", but added Britain will not rush to trigger the formal divorce proceedings. The uncertainty over whether Britain will be able to retain access to the single market after exiting the EU, along with expectations that the Bank of England could cut rates on Thursday (July 14), are likely to make traders wary of sterling.
Sterling was up 0.1 per cent at $1.3270, having hit a high of $1.3340 in the Asian session, its highest since July 4, and well above a 31-year low of $1.2798 struck on July 6.
The euro was down 0.3 per cent at 83.25 pence, having fallen to 83 pence in Asia, its lowest since June 30.
"It remains unclear for the time being as to whether the UK will retain free access to the single market, and therefore the potential for setbacks in sterling is high," said Thu Lan Nguyen, currency strategist at Commerzbank.
"After all, the massive current account deficit causes considerable concern against the background of continued uncertainty."
Pound vulnerable to changes
Britain runs a current account deficit pegged at around 7 per cent of gross domestic product – amongst the highest in the developed world. That makes the pound vulnerable to changes in foreign capital flows needed to plug the gap.
Bank of England chief Mark Carney has hinted he may ease policy to cushion the economy from Britain's shock decision to exit the EU, with markets pricing in a more than 70 per cent of a 25 basis point rate cut on Thursday (July 14). The BoE has said the economy is likely to suffer a slowdown in coming months.

"We think the pound's rally will run out of steam once investors learn that the economy is likely to slow down from the investment side, weakening employment and then finally consumption," Morgan Stanley said in a morning note.
Officials from the world's largest asset manager, BlackRock, said on Tuesday (July 12) Britain would fall into recession over the coming year and growth in each of the next five years would be at least 0.5 percentage points lower as a result of Brexit.
» Read more about Trade.com and learn how to trade in currencies online.