Euro remains centre stage as Spain pulls back from the brink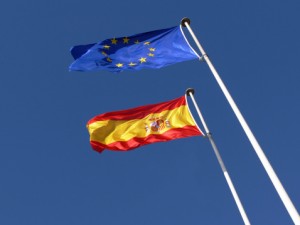 All eyes will be on the Eurozone this week as a welter of news upturns expectations in the run up to Thursday's EU Summit in Brussels. Spain in particular is breathing a little easier today, following Moody's decision not to downgrade its credit rating to 'junk' status.
The country's debt remains in the investment grade, though by the slimmest of margins. Moody's reaffirmed their Baa3 rating with a negative outlook, citing progress on economic reforms and bank restructuring domestically, and continued ECB bond-buying for the Euro periphery.

Forex markets responded buoyantly, with the Euro attaining a one month high against the dollar, trading at over $1.31 on Wednesday. Spanish bond yields have reacted strongly, with ten-year debt plunging to 5.57% – a yield not seen since April. Italy too has seen its ten-year yields falling to 4.83%. Both countries have benefited from positive, but guarded, comments from IMF Chief Economist Olivier Blanchard to the effect that the Eurozone had 'almost' done everything necessary to address their sovereign debt problems.
A more sombre note was introduced when the German Economy Minister Philipp Rösler announced a slow-down in his nation's growth forecast. Although acknowledging the difficulties created by the Eurozone crisis and slower activity in emerging markets, Rösler stressed that the German economy was still growing. Meanwhile, the UK sees a slight improvement in employment figures, and the Bank of England's Monetary Policy Committee hold to their interest rate and quantitative easing policies.
The next few days promise interesting times for online traders as the latest Eurozone summit plays out in Brussels. The stage seems set for a clash between France's President Hollande and Chancellor Merkel over austerity policies for the periphery, mutual Eurobond debt and banking union. The Euro is likely to remain firmly in the spotlight for the time being.