The Greece crisis throws Europe into distress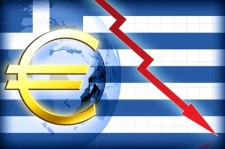 The Greece crisis reached new corners of the globe recently with its latest haphazardly turn away from progress. Today Monday June 29th, markets suffered across Asia to Europe in the wake of Greece shutting down its banks for a week, ahead of a debt default that now seems more probable than ever.
Oil prices saw a sharp drop and the Euro declined against the dollar, while Japan's Nikkei 225 index fell 2% to 20,283.98 points.

The Shanghai Composite Index was down 0.4% at 4,178.56, in spite of China's weekend interest rate cut. Over $35 billion was also wiped off the Australian stock market during the first hour of trading on Monday, leading investors to brace for what will become a frantic, constricting week.
The US Treasury Secretary, Jack Lew, once again spoke of the need for Greece "to take necessary steps to maintain financial stability" ahead of the country's referendum on a Eurozone exit. A tightly squeezed Greece is now almost certain to miss its debt repayment on Tuesday, as the country's European partners shut down any possibility of extending a credit lifeline, after its surprise call for a referendum on bailout terms earlier in the week. There is visible fear of a fast-approaching default among Greek banks, which triggered a string of bank runs over the weekend, and more or less forced prime minister Alexis Tsipras to announce a bank holiday on Monday and capital controls.
In a short televised address to the nation, Tsipras predictably pushed all blame onto the leaders of the Eurozone. He failed to mention how long the banks would stay shut, and did not release any details as to how much individuals and companies would be able to withdraw once the banks were up and running again. The IMF have said they are 'ready to provide assistance' wherever they can in the unfolding crisis.