Should Spain be a concern to Europe?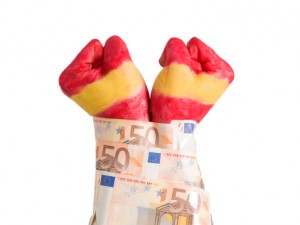 In the latest forex trading news, all eyes are keenly focused on what may be a rather bullish rebound for the Euro.
Last week, this multinational currency finished trading with gains just above one percent; a mild signal that forex traders may be taking a keener eye on futures. However, there were relatively few notable events during the prior week. On the contrary, the week ahead will see some major news emerge from the markets.

Of foremost concern is the 2013 second quarter GDP figures to be released from Spain. Many analysts feel that Spain may finally be emerging from what has certainly been a protracted recession. While unemployment still remains high and government tensions are on the rise, some speculate that reports will show that the economy has contracted less than the two percent reported during the first quarter of 2013. Should these prediction be correct, this move could signal a strong rallying point for the Euro against other currencies; most particularly the weak dollar.
Events in Spain (one way or the other) will have a higher impact than normal during this upcoming week. This is primarily due to the fact that inflationary figures set to be released from Germany are not thought to influence ECB policy. Furthermore, July labour market reports are expected to remain rather flat. Thus, the events in Spain will have a determining effect on the strength of the Euro.
In addition, the Eurozone CPI statistics are due out on Wednesday and many online forex traders feel that these metrics could further influence a more bullish stance in relation to the Euro. Simply stated, all trading eyes will remain firmly fixed on Spain during the first part of the week.
While these preliminary data may cause the Euro to rally, it is thought that trading may still remain cautious in regards to shifting large holdings into or away from this currency. Still, a more positive outlook is expected to continue into the future should Spanish GDP figures follow suit with the majority of expectations. This may represent a strong opportunity for online forex traders to profit off of the very real disparity between the Euro and the dollar as we enter into August