Australian dollar hits all time low since 2009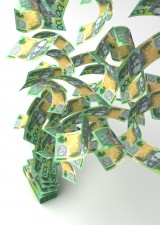 The Australian dollar has been weakening as a result of falling oil prices. "Jawboning" or the false market commentary has also been blamed to be partially responsible for AUD weakening.
The currency is under pressure with predications that the Aussie Reserve Bank will lower interest rates in response to other central bank decreases and lesser inflation expectations.
The cuts are contagious – currencies are weakened. Central banks in Mexico and South Africa are to release policy decisions and Mexico's central bank is keeping policy rates on hold.

The Aussie dollar has tumbled on January 30, 2015, hitting a 5.5 year low and there are speculations that the Reserve Bank of Australia will cut interest rates next week or during March.
Some of the major banks in Australia agree that the Reserve Bank of Australia will cut rates soon, predicting that the first move will come in March.
The Australian dollar is also under pressure because of the slump in iron ore prices hitting a new 5 year low. The recovery of the AUD/USD pair from 0.7718 was capped below 0.7800 and currently remains around 0.7730/40, falling for the third day. Early on Friday morning, 30 January 2015 the local dollar was trading at 77.20 cents, its weakest stage since July in 2009.
It is believed that if the Australian Reserve Bank doesn't lower the cash rate some time during next week, it will indicate that it is open to lowering it during the year.
Experts have predicted that the Australian dollar would fall in value during 2015, but it has come far sooner than expected. In fact, currency strategist Raiko Shareef, from the Bank of New Zealand said that the Australian dollar is currently showing the worst performance of all market currencies. He referred to the dramatic fall of the Australian dollar as something quite astounding.
Trading forex can be scintillating and a form of investment income. The forex market trades in the area of about $5 trillion per day. Many people are going online and predicting the direction of the market. For the online trader, the forex market can be accessed 24/7 and is convenient for anyone wanting to trade part-time.