China Stock Market Turnover Hits Record High as Margin Traders Exploit the Situation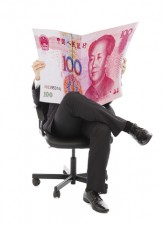 According to the Bloomberg reports, less money is changing hands in trading stock in the US than in China market.
The combined turnover in Shenzhen and Shanghai rose to a record high of $380 billion on Thursday, exceeding the value of stock traded in the U.S on Wednesday by a whooping $132 billion.
The equity volumes in China surged as monetary speculation and easing of further stimulus ignited the biggest rally in the world.

The indexes dropped by over six percent in record high turnover because many investors rushed to sell when brokers tightened trading margin requirement and the central bank drained money from the liquidity market.
The Shanghai composite index and the CSI300 index both dropped in on late Thursday afternoon trade, closing down 6.5 percent and 6.7 percent, respectively, their worst trading since January when the market fell over seven present on an early crackdown on the margin trading. The Shanghai stock exchange a market turnover hit $193.57 billion, an all-time record high on the sell-off.
Meanwhile, the Hong Kong, the Hang Seng index closed 2.2 percent down, the China Enterprises Index lost a considerable 3.5 percent, and other key mainland stocks were trading lower than that of Hong Kong.
Overall, the China's stock market has increased by over 140 percent over the last one year, despite a weakening economy because thousands of retailers piled into the best performing market in the world. Economists are speculating that the government will take steps to cool gains in the market where individual investors account for over 80 percent of trading.
The official data shows that the increase was accelerated by cheap credit, with an unsettled value of margin finances, hitting a record two trillion Yuan on Tuesday.