Goldman Succumbs to a Stronger Yen, Mirroring Euro Call Mistake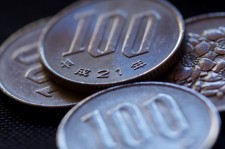 Less than two months after Goldman Sachs Group Inc. softened its short-term euro forecast after a central-bank policy meeting, the bank is doing the same with the yen.
Japan's currency is likely to strengthen until Bank of Japan Governor Haruhiko Kuroda rolls out or signals additional stimulus measures, analysts led by Robin Brooks, the bank's chief currency strategist, wrote in a note to clients on Monday.
That overtakes an April 24 call for the yen to weaken in coming months.
Unpredictable currency markets
Goldman Sachs's adjustments shows how unpredictable currency markets have been in 2016. Both the euro and the yen have jumped even as policy makers in Europe and Japan unveil further stimulus, while the dollar has posted its worst string of monthly losses in two years following the first Federal Reserve rate-increase in a decade. That's challenged market consensus for a stronger greenback, prompting forecast revisions.
"Until Governor Kuroda is willing to grab the bull by the horns and confront market fears over the BOJ's balance sheet, the path of least resistance for dollar-yen is down," Brooks wrote. "Dollar-yen will ultimately go a lot higher. Just not in the short term."
The yen is at an 18-month high
Goldman Sachs didn't include a set target in its latest note. Reports published in April and March forecast a yen slide to 130 per dollar within the next year, and a euro decline to 95 cents during the same time period. The yen traded at 106.33 per dollar as of 12:10 p.m. in New York, while the euro was at $1.1505.
The yen has climbed to an 18-month high since Japanese policy makers met last week. Officials opted to hold firm on monetary policy, thwarting Goldman Sachs's expectations for further stimulus.