United States outlook, impact on USD/EUR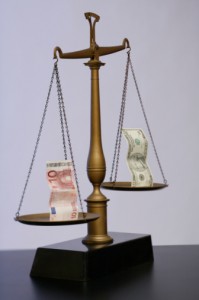 In the latest forex news, the US dollar has slid considerably in comparison to other major currencies.
While earlier this month many forecasts were bullish regarding the dollar's upward trend, analysts have now scaled off this position and are taking a more contemplative approach.
Indeed, the dollar may slide further as is possibly indicated by the relative strength index (RSI) which appears to be setting the stage for a downward trend in the weeks to come. This is especially relevant considering that the Jackson Hole Economic Symposium is on schedule for the following week.
Although the bearish stance for the dollar may continue temporarily, should chairman Bernanke not hint at another round of QE3, sentiments may begin to reverse.

United States outlook
There indeed seems to be some reasons to doubt whether QE3 may take place, as recent economic figures from the United States hinted that the outlook for growth has improved. Additionally, many are expecting that the central bank will take a watch-and-wait approach as the economy will hopefully find itself upon a more stable path.
Nonetheless, the US dollar faces a rather bearish future from a technical standpoint as it continues to follow the descent witnessed in June.
Euro gained compared to weak dollar
This has caused the Euro to gain ground in comparison to a weaker dollar; the Euro rising .36% in trading. Likewise, we have seen precious metals rally amidst safe haven investing.
Due to the bearish outlook for the dollar for the remainder of the year combined with the fragile economic state of the global economy, many predict gold to test 2,000 an ounce by year's end.
Long term currency investment
From an online forex trading standpoint, some still view the dollar as a longer term investment while others will wait and see if the dollar has enough momentum to hold above the 61.8 percent Fibonacci retracement which at present it is struggling to maintain.