Swiss Franc
The Swiss Franc, or simply Franc, has been circulating since the beginning of the 19th century. Between 1803-1850 they Swiss Francs become the officially currency in Switzerland. Swiss Franc is often referred to as the foremost safe heaven currency. It's been considered as a safe & stable currency for over a decade and forex traders tend to flock to CHF when there is problems in other currency markets.

Choose what you want to read about below in our extensive guide to Swiss Franc:
Common names for Swiss Franc
Schweizer Franken (German), Franc Suisse (French) and Franco Svizzero (Italian) are the most common names for Switzerland's currency. The short symbols used are CHF ('the currency symbol for Switzerland'), SFR ('official acronym') and Fr ('unofficial acronym').
Countries with Swiss Franc
The official countries using the Swiss Franc is Switzerland and Liechtenstein.
Unofficial countries with Franc
Unofficially, it's a viable currency also in Büsingen Hoch am Rhein, Germany.
How much is the Swiss Franc traded?
Swiss Franc is the 5th most traded currency in the world, after US Dollar, euro, yen and pound sterling
Currency symbol and ISO-code
The official ISO code as currency traders are using is CHF. Fx trading offices can sometimes use Sfr instead of CHF. And finally, the Swiss themselves do often use FR instead, when dealing with the local currency.
History of the Swiss Franc
In 1848 the Swiss Federal Constitution became the only entity allowed to make money in Switzerland. 1850, they introduced the Swiss franc with the same exchange rate as the French franc.
Swiss neutrality, banking system and legal system created a rule that at least 40% of the money should be preserved in gold reserves. This has led the country to be characterized as a 'safe haven' currency from the 1950s and afterwards. Anyway, the 1st of May 2000, rules were amend for how much gold the Swiss National Bank must keep. In March 2005, the National Bank had 1290 tonnes of gold in addition to the currency reserve, representing 20% of total assets.
Currency Crises with Swiss Franc
Switzerland is one of the few countries which has emerged from major currency crises. The Swiss currency has rather developed very strong throughout the later part of the 20th century and forwards.
Swiss National Bank
Swiss National Bank has two main targets:
Stable prices: Switzerland pursues financial stability.
Secure payments: National Bank trying to fulfill their functions and be resilient to potential shocks.
Online Forex Trading with Swiss Franc
Swiss Francs is part of the 5th most actively traded currency pairs. Trading Swiss franc against the USD, Euro are Sterling are the most popular among online forex traders.
Swiss Franc's value against other currencies
The Swiss Franc is traded freely under floating exchange rate.
Pictures of Swiss Franc; notes and coins
Below are some common notes and coins from Switzerland.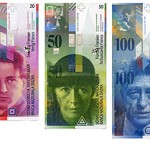 Warning: include(/home1/sub001/sc19974-RPIX/onlineforex.net/wp-content/themes/forex-full/inc.BlogCurrency.php) [function.include]: failed to open stream: No such file or directory in /home/dme/public_html/onlineforex.net/wp-content/plugins/inline-php/exec_php.php5(4) : eval()'d code on line 5
Warning: include() [function.include]: Failed opening '/home1/sub001/sc19974-RPIX/onlineforex.net/wp-content/themes/forex-full/inc.BlogCurrency.php' for inclusion (include_path='.:/usr/share/pear:/usr/share/php') in /home/dme/public_html/onlineforex.net/wp-content/plugins/inline-php/exec_php.php5(4) : eval()'d code on line 5