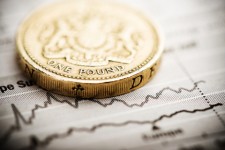 The pound fell even as a report showed the UK's annual inflation rate rose more in June than economists forecast.
Sterling weakened versus most of its 16 major peers. UK consumer prices climbed 0.5 per cent last month from a year earlier, the Office for National Statistics said in London. Analysts had expected the rate to rise to 0.4 per cent, from 0.3 per cent in May, according to the median estimate in a survey by news agency Bloomberg. The Bank of England's 2 per cent inflation target was last reached in December 2013.
The Bank of England signalled last week it is readying stimulus for August as the economy reels from Britain's decision to quit the European Union. Minutes of the BOE's July meeting showed most members of the Monetary Policy Committee expect policy to be loosened next month.
Read the rest of Pound Falls Even as Inflation Rates Beat Economists' Forecasts »